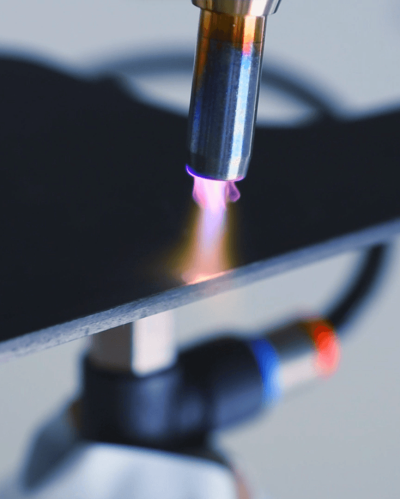 Plasma Bound have developed a patented technology that transforms Atmospheric Plasma from an 'Activation' to an 'Ablation' process. This innovation eliminates heat affected zones and residue while preserving undamaged fibres for enhanced adhesion. It provides higher bond strength, even for hybrid assemblies, and allows for highly repeatable surface preparation before coating or painting on all composites, including thermoplastics.
Experience the power of Plasma Bound's transformative technology to rethink your supply chain and achieve long-lasting surface free energy benefits.
Contact us to unlock the potential of our technology for your applications. 
"Vulcan", developed by Plasma Bound, is a VPN-controlled device that communicates with standard plasma generators. It allows precise control of recipe parameters for tailored treatments while safeguarding Plasma Bound's IP. With advanced encryption and multiple recipe options,
Vulcan unlocks new possibilities for superior plasma treatment. 
Elevate your processes with Vulcan's innovative technology and software.
Contact us to learn more.